Lets review today, because it was rather telling, and tomorrow will be a direct consequence of market action today because price action was very, very clear. Bring up the chart from my note from yesterday if you don't have the details in mind. What we were looking at going into today was basically two consecutive, rather long-wicked doji's in a sharp down move (more than -10% in 10 trading days). Following that we had a filled gap candle down (yesterday) which would bode ill, especially given the bloodletting everywhere in the western markets prior to thanksgiving, and the lack of resolving news in the pipeline I yapped about yesterday.
Look at this, and disregard the studies or the MA's plotted since it's intraday on a 5 hrs traded market: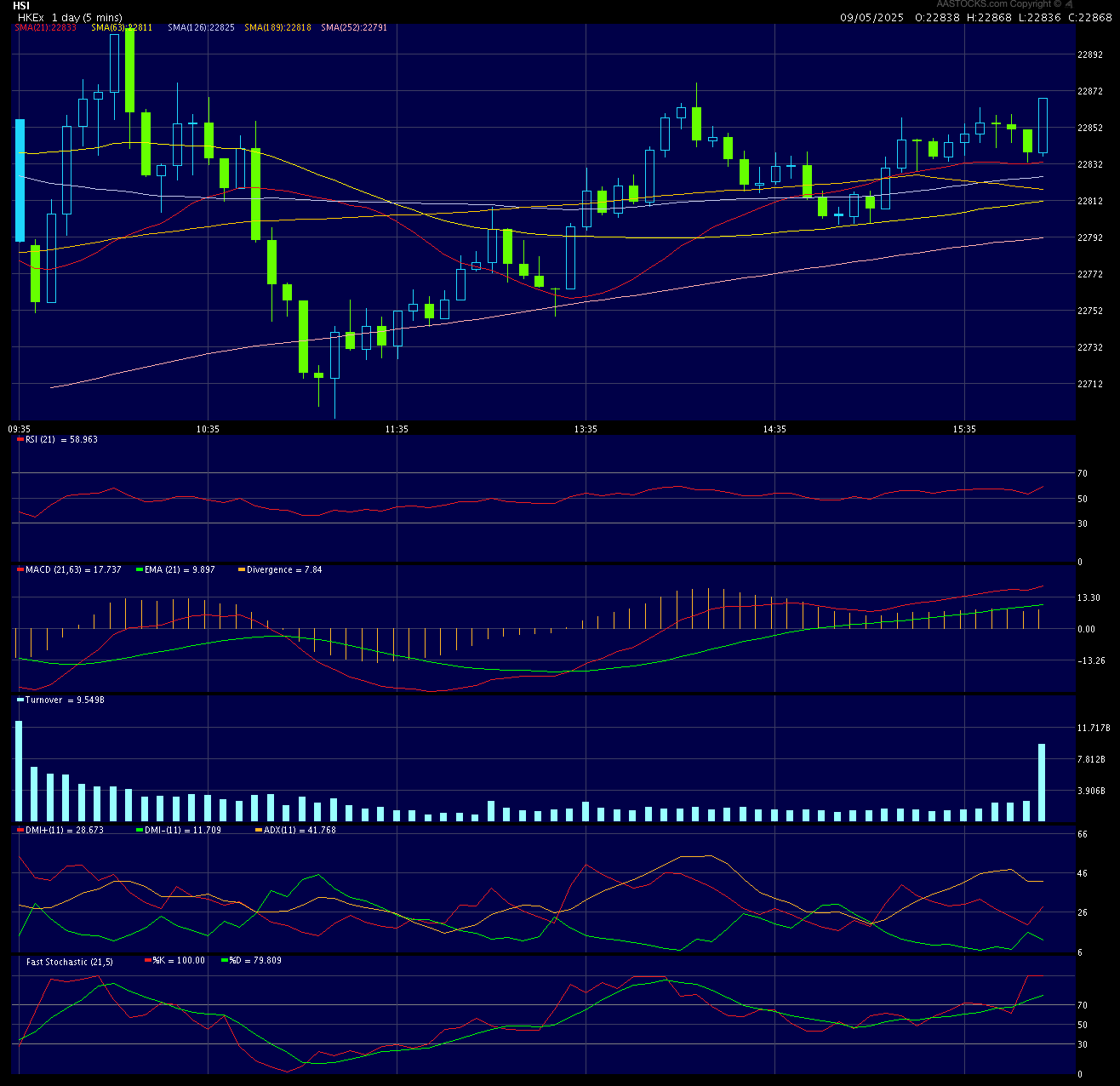 Notice how it opened at 17658, which was also the day low. Notice volume. Notice the one hour 20 minutes (or 45, depending on your definition) nearly unbroken rally which sailed it from -2% past the high point of the prior day and giving it a nearly 1% boost to prior close. (For dummies: big bullish engulfing candle on a lonely little bearish gapping candle. Bulls decided that news out of everywhere, the smart money trade at the start of the day, massive volume, technical headwinds on the longer time frame and globally thin markets for the US Thanksgiving holiday just didn't matter. The volume that occurred prior to the slowdown of momentum at around 11 am local (30% of the trading time) accounted for nearly 50% of the day's total volume. There was force moving this market up. HFTA's just cycling through portfolios faster than human thought? Massive portfolio rebalancing out of non-HSI constituents to the safety of Blue Chips? Capital flight from Europe? Buying on dips?
Translation: The smart money knew where it wanted the market, and the dumb money thought it found a massive buying opportunity heading into a massive gap lower and quick momentum upwards. Notice again closing action where the smart money positions with all the aforementioned factors in mind at an opportune entry point, and after-hour futures are also down relative closing price. Not very good.
What is even worse? Every reason yesterday should have precipitated a massive fall was there. Why the market turned upwards and didn't look back for an hour is honestly a mystery I can't understand, but I suspect some larger regional players possibly entering for the buying-on-dips idea (decoupling of gullibility has yet to occur in that case). None of the other reasons honestly makes much sense given the prior price action in reaction to larger falls in the west. Where was the line in the sand? What is even worse – part 2? The rally stopped dead in its tracks at 18000. is that an important technical level? Not really, as far as I can find. It's been a sort of deciding line for the last three months of trading, but not overly important, with only 9 closing prints below it and some stalled rallies above. No big P/E multiples, warrant strike batches, or serious Support/resistance lines are there. Now, it had two u-turns on the 5 minute chart before lunch (11.00 and 11.25) and one at 15.55 right before market close, all very near 18000. Futures, which are slightly variable with respect to spot, also show the same mechanics, not only attacking 18 000 firmly 1, 2 or 3 times but failing at the level a whole whopping 7 times! Volume? Bull trap razor thin.
Wake me up: one of the stronger runs seen in a long time (3% swing in 80-90 minutes? massive volume?) off some strong bearish signals prior gets stopped dead in it's tracks right when the going gets good and the odds start stacking in favour of the bulls? Remember, there is no particular oscillator or massive MA the markets stack on the 18000, it's fairly traded but broken prior S/R and a big figure alone.  Reaction: immediate bull retreat? It simply doesn't bode well given the massive falls experienced today in western risk assets and prior price action at the 18000. Volume weighted daily price is substantially below the closing price as well, indicating that the smart money knows where it wants the market, and the rest of the traders are simply not going to get their risk worth of return.
Start shorting everything now. If you can't, get a hairdryer and prepare to dehydrate some powder (which would be excellent spider repellant by the way). Just because the market is bad? Nah, not really good enough – you never know when the next printing press might just start shipping boatloads of liquidity eastwards – you need it to front run the liquidity raising before the Chow Tai Fook IPO. Not because it will need the money for pure investments – estimates run at US$ 4bn, which is a total dwarf compared to for example the AIA IPO or that of any banks, but the proof of this one will be in the trading unlike any other. You should keep dry powder not necessarily to invest, but to trade this beauty, and with liquidity not what it was, that US$ 4bn is much more massive than the print reveals. Analysis coming up, but I'll have time for that. Sell HSI now, that's the more urgent message.