So China's GDP numbers hit the wires this morning around 10 am. At 7.3% rather than the expected 7.2%, it first gave the market a slight shot upwards but then after that quickly gave back those gains as some people are now speculating that any easing or stimulus measures are further away than they would have been with a ~7% growth.
What a load of…
China will need reform and Xi Jinping will not like anything that ties his hands down on a shift to overheating gear. Any stimulus unless externally motivated or due to a massive financing drought will be rather more flexible and not really touch all of China but reach targeted areas. 7.2% growth is not the dividing line on that happening, and the CCP looks a little bit further than that in their policy-making. China isn't a slave to GDP numbers or stock markets nearly as much as other areas needing reform, like social safety nets and property market fundamentals. A good GDP number, as long as it isn't completely fudged (completely different discussion) is a good thing in my book, and if it holds back stimulus to any degree it allows formulation of better policy. Win-win in my book!
But equity markets are indeed taking this like a kick to the face.
HSI:
The HSI is doing considerably better than I expected, "just" down 0.35% at the moment, but from the daily peak it's more than 1%. Thus, we again reinforce the pattern of rejecting the 252- and 189 SMA's, further enforce the ADX/DMI rejection and generally put the index at a very unfavourable place to be. On top of this we have a near-1% upwards wick on a general down-day with very likely increasing volume compared to yesterday.
I will be waiting for a 21RSI drain-out around 25-30 (currently at 38.84) before I go in. This would indicate a few more days of significant losses and sets a new target below 22 600, where I would require a cross in the ADX/DMI before confidently going long.
The VHSI index will be pretty instrumental in looking at the volatility going forwards, and it shows that a lot of people are expecting further falls in the market.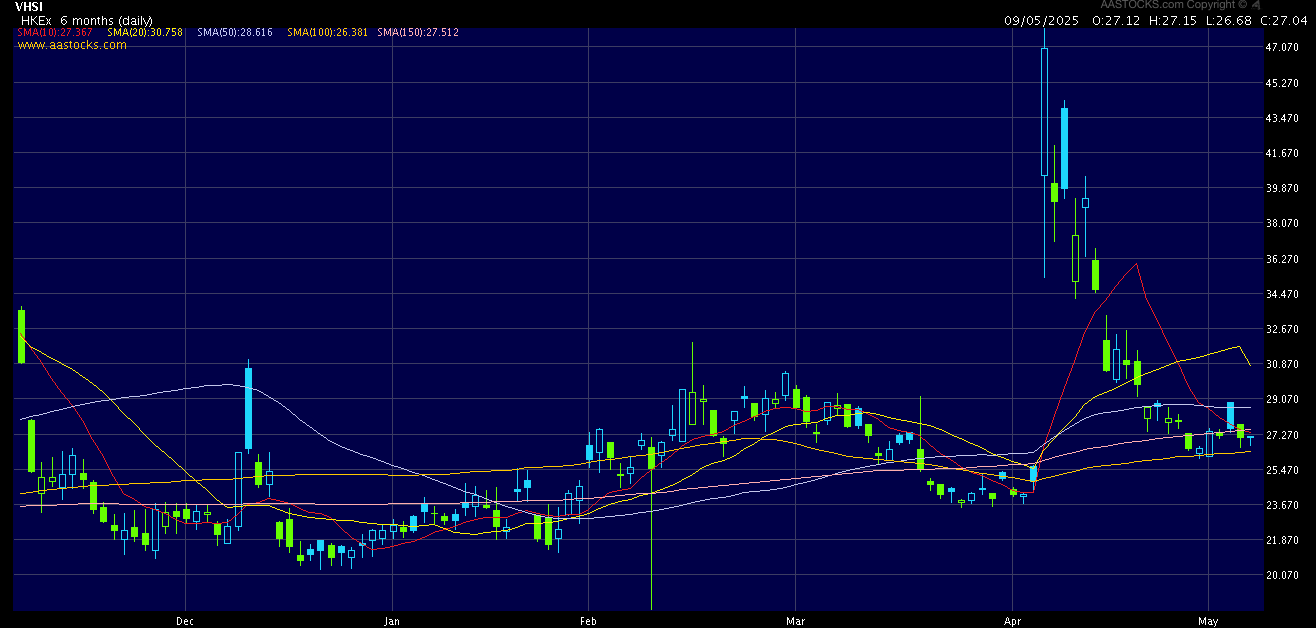 The VHSI isn't spiking as much as i would expect, looking more like a plateau, and isn't receding as heavily on positive market days either, further enhancing the belief that the volatility top hasn't been seen yet and that the shorts are largely in control as well.
Nikkei 225:
The Nikkei has been taking an absolute beating, falling 1.5% since the announcement off the back of a 1% move lower on the futures market overnight already. This while the yen is being relatively stable (up or down less than 1/4th of the Nikkei on a relative basis) for the first time in more than a week. It really seems as if the underlying Nikkei volatility has been spiking up a bit, and indeed the Volatility Index Japan is staging a comeback to even higher levels.
Crushing the 15 000 level is an impressive feat, and re-targets the Nikkei towards 14 360 – 14 550 where massive volume traded and formed a support off yesterday's rally.
Even the S&P500 futures have been smitten with this stimulus craving, and has taken a very slow and measured move lower by 0.5% following the announcement, although they do seem to be perking up at the moment.
---
I think the market needs a bit of a drain-out as I have mentioned before, and doing this is an intermediary step to clean away those who had been a bit too exuberant with Nikkei 225 levels at 16 400+, the HSI at 25 200+ and the S&P500 at 2 000+. Now is the time to set buying levels and target specific firms. Also, if this is the name of the game, the fact that the Hong Kong-Shanghai Stock Connect still doesn't have a set date could imply that big reform news that are market negative could come out of the Fourth Plenum and that China would really like their stock market "IPO" to go smoothly by delaying this to where they have a market tailwind.